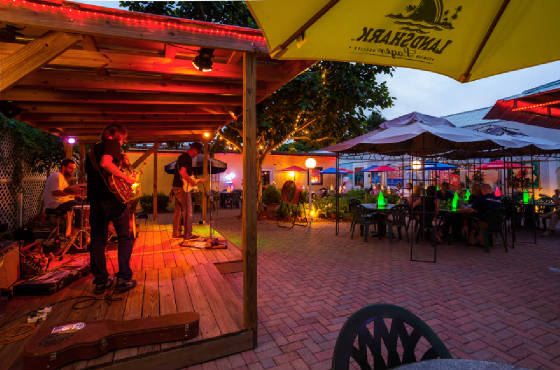 ********
TUESDAY JANUARY 24TH - 7PM

This is such a treat! I know it's a weird day but he is in town on this one day and we couldn't say no!

This is a FREE Show, more reason to come.

 Reverend Raven and the Chain Smoking Altar Boys play traditional blues, straight up with a big dose of passion. With smoking grooves, served up with hot harmonica and smooth stinging guitar they play original songs peppered with nods to Slim Harpo, Little Walter, Jimmy Rogers, Billy Boy Arnold, Junior Wells and the three Kings.

Born and raised on south side of Chicago, the Reverend has been playing the blues since 1971 when he first saw Freddy King play at the Kinetic Theatre in Chicago.
continue reading his bio at:  www.reverendraven.com


********
AWARD WINNING WEEK!
This line up + Amazing Food + Good Friends= a memorable evening.

********
Tuesday Night 6pm
Jack Mosley Solo -
Jack is considered by many to one of the Best "Trop Rock" song writers and entertainers in the country. He has performed all over the country and Caribbean, opening for Johnny Cash, Tanya Tucker, and Phil Vasser to name a few.
Wednesday Night 7pm
BISCUIT MILLER & THE MIX
Great way to start a new year! Nominated for the Blues Music Award (Bass Player) 2017 and the release of his CD -Wishbone. We love Biscuit, Dr. Love, Bobby and South Side Alex. This is a high energy blues band. Come out and see his award winning smile and of course award winning band.
Thursday Night 7pm
Chris O'Leary Band
Blues Blast Best New Artist Debut winner, BMA nominee and VizzTone artist, The Chris O'Leary Band plays American Roots music, steeped
Friday Night 7pm
Mike Imbasciani & His Bluez Rockerz
This young talented blues musician explores modern interpretation of the old forms. With a rich seasoned voice that betrays his young age, he pays homage to the great blues and rock musicians. Come early!
Saturday Night 7pm
MacDaddy Band
HIGH ENERGY FOUR PIECE BAND FROM SW FLORIDA PLAYING ROCK,CLASSIC ROCK,BLUES,COUNTRY & IRISH MUSIC..THE BAND WILL VISUALLY ENTERTAIN YOU & MUSICALLY ENVELOP YOU
********
********